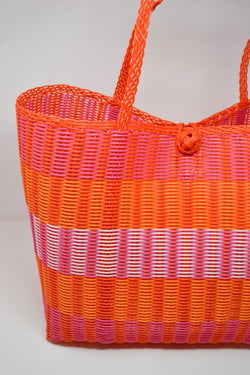 Pink & Orange Lalie Tote
Our go to beach and pool tote! We love using this tote everyday for the grocery, work, school and weekend hauling. At the grocery, barn, pool or beach, it stands tall and never collapses. Makes for a great travel bag as well. Handles are woven continuously around and through the basket so it can carry any weight. The sturdy plastic is washable and will never fade or falter. You will love this bag forever!
Handwoven by women in a small mountain village in El Salvador. 
Dimensions: 14" H x 16" W x 9" D