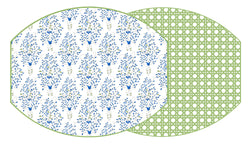 Stella + Cane Reversible Placemat
Our go to placemat! A beautiful hardboard ellipse placemat for your home. This reversible placemat features a Dana Gibson designed floral motif with classic cane on the reverse. 
Trimmed in gold and protected with two coats of low matte clear polyurethane. Made in the USA.
Sold individually. 

Dimensions: 17" W x 14" L
Care Instructions: Wipe clean with a damp cloth