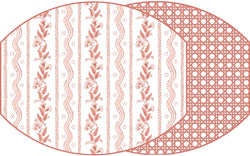 Terracotta Emma + Cane Reversible Placemat
Our go to placemat! A beautiful hardboard ellipse placemat for your home. This reversible placemat features a fresh take on a floral stripe with classic cane on the reverse. 
Trimmed in gold and protected with two coats of low matte clear polyurethane. Made in the USA.
Sold individually. 

Dimensions: 17" W x 14" L
Care Instructions: Wipe clean with a damp cloth