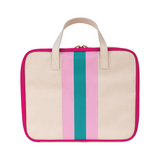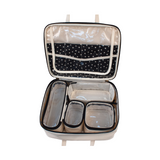 Vanessa Makeup Case
The Vanessa's rearrangeable large interior will fulfill all your makeup organization needs. The exterior is made with coated canvas for long lasting durability. The lid also features a double row organizer for your brushes and pencils. 

Turnaround: Please allow approximately two weeks for this item to ship. 

Dimensions: 11.5" W x 9.5" H x 4" D

Care Instructions: Please avoid contact with dyed fabrics and printed materials to prevent color transfer to leather and canvas, and please do not dry clean.
The 2022 Holiday Deadline is December 6.