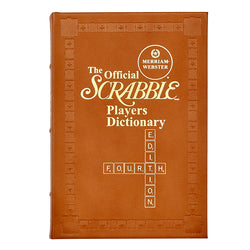 Scrabble Dictionary Leather Bound Book
The book that millions of Scrabble platers consider the only necessary resource. Ideal for recreational and school use. More than 100,000 playable two to eight letter words including 4,000 new entries. Includes variant spellings.  
Bound in genuine leather.
Turnaround: Please allow approximately two weeks for this item to ship. 
2021 Holiday Deadline: November 26